World Cerebral Palsy Day Activities
27 November 2023
On October 6th, we celebrated World Cerebral Palsy Day. Our goal was to promote equal rights and opportunities for individuals with Cerebral Palsy. This year, we continued our campaign with a "green" theme for the fifth consecutive year. Our message was "There are a million reasons" to raise awareness about Cerebral Palsy. To spread awareness, we turned the lights of numerous bridges, shopping malls, and historical sites in Istanbul green. Our experts and employees participated in radio and television broadcasts, and we also had outdoor advertisements created. We brought the issue to the attention of the public through TV programs and news, as well as digital campaigns. One such campaign encouraged celebrities to share posts about Cerebral Palsy.
Gözde Arasil, Spastic Children's Foundation of Turkey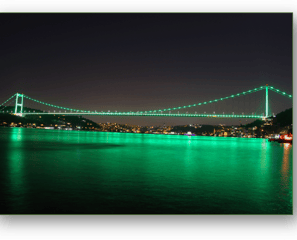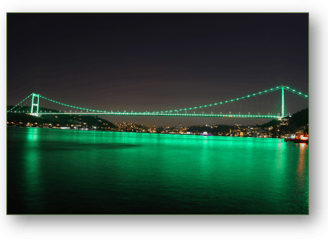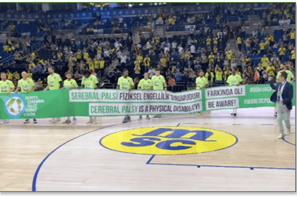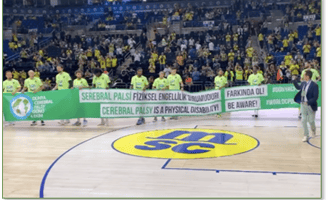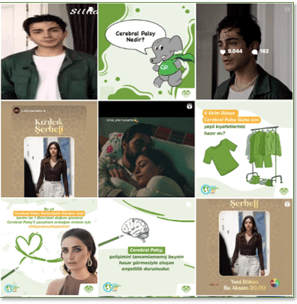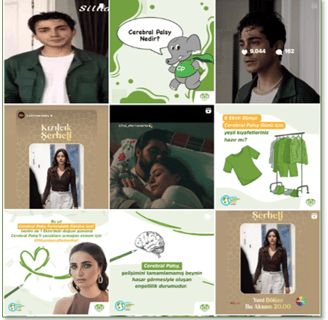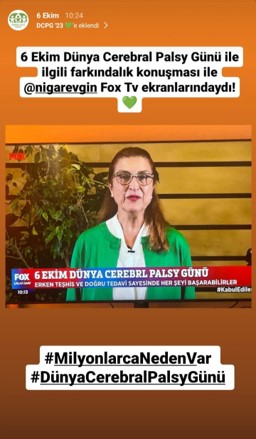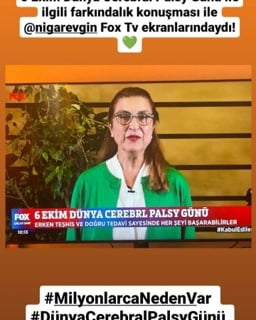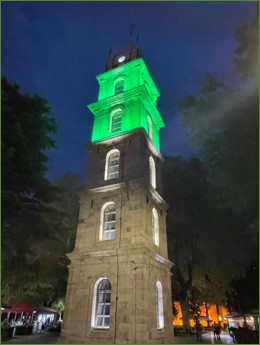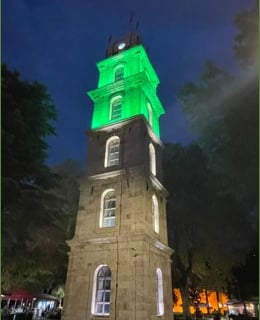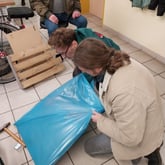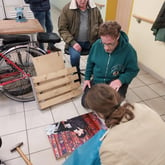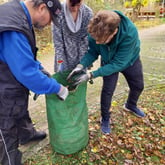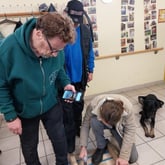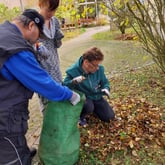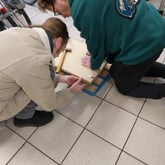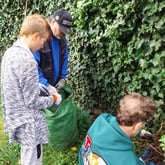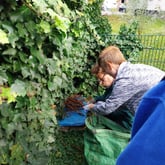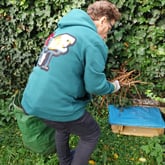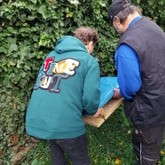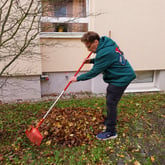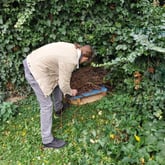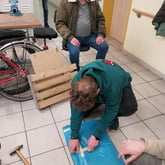 Building a hedgehog house
23 November 2023
On a more or less sunny day in November, some clients from Internationaler Bund (Germany) came together to build a hedgehog house in the garden of the residential home of Internationaler Bund in Bommersheim.
The photos speak their own language, the clients were very engaged from planning to construction and the perfect thing was that we could get some usually rather passive clients into our action. Let's hope that a hedgehog finds his way to the beautiful home we built.
This activity is part of the "Green Chain" project in which Internationaler Bund participates, which aims to promote sustainability in organizations working with people with disabilities.
Cristine Halas, Internationaler Bund (IB), Germany
Let's make the world a better place for everyone
21 November 2023
A project has been implemented in the Netherlands to define its education system with a focus on inclusive education, emphasizing a strong start for every child. This means going to school in your community and challenging traditional models for greater equity. The shift extends beyond geography, recognizing the social importance of making friends within the village and fostering community bonds and shared identity. By prioritizing education as a tool for social cohesion, the Netherlands is taking a significant step toward building an inclusive society. This reflects a broader commitment to inclusivity, recognizing that positive change begins with the experiences of the youngest community members. In prioritizing an inclusive start, the Netherlands underscores the idea that fostering a better world commences in the earliest moments of a child's education within the familiarity of their village and community.
Ino C.M. Cornel MBA, The Netherlands
Knowledge Transfer and Friendship -

Greek-German Youth Exchange

8 November 2023

Young people with disabilities from IB Germany and from two Greek organisations spent two weeks together in a very nice inclusive exchange program in the frame of the German-Greek Youth Work. 8 PWD and 4 staff flew to Crete in September to meet the partners and learn about country and culture. A month later, the Greek youngsters came to Germany and visited many monuments in and around Francfort. All participants were happy to make new friends in a foreign country!

Cristine Halas, Internationaler Bund (IB), Germany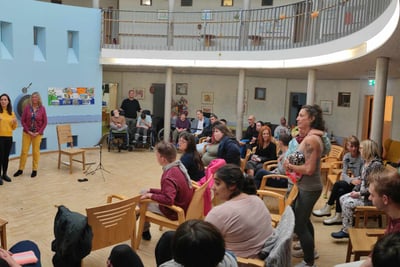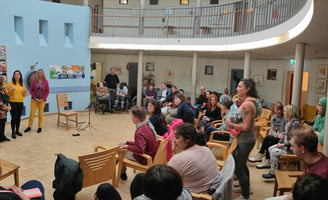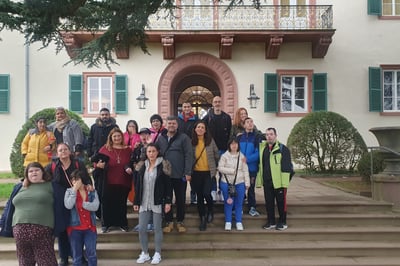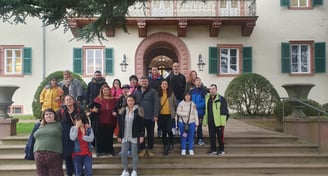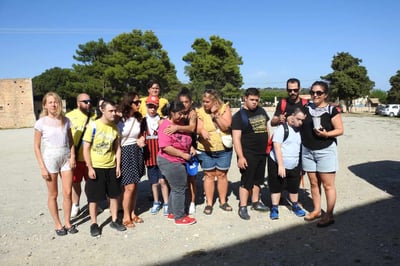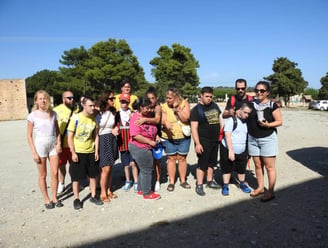 The Green Chain Project: Empowering Youth Workers for Sustainability and Inclusion
6 October 2023
In September 2023, the Jaunuolių dienos centras (JDC) embarked on an inspiring journey to promote sustainability and ecological awareness among youth workers across Europe. The "Green Chain" project, which took place from September 20 to 23, aimed to motivate and engage staff working with young people with intellectual disabilities (PWD) to focus on sustainability and ecology while developing their green competencies. This project brought together participants from eight different European countries, with a mission to create a network of motivated youth workers who would drive ecological change and inclusivity in their communities.
The primary objective of the "Green Chain" project was to establish a network of dedicated youth workers who would not only raise awareness about ecological issues but also inspire their communities to adopt sustainable practices. It also aimed to create a space for the development and sharing of innovative methodologies and activities, enabling young people with intellectual disabilities to become part of sustainable communities. The project sought to motivate youth workers to organize ecological and sustainable actions in their respective countries and share the results with partners and a broader audience.
The "Green Chain" project set forth several key goals and anticipated outcomes:
- Building a Network of Motivated Youth Workers. The project aimed to create a network of motivated youth workers who would champion ecological awareness in their communities. By fostering collaboration and knowledge sharing, the project aimed to inspire youth workers to take a proactive role in addressing ecological challenges.
- Innovative Methodologies and Activities. The project envisioned the creation and sharing of innovative methodologies and activities tailored to engage young people with intellectual disabilities in ecological initiatives. These activities were designed to make PWDs an integral part of sustainable communities.
- Implementing Sustainable Initiatives. Following the project meeting, each participant committed to implementing at least one initiative that encouraged PWDs, organizations, and local communities to act sustainably. A total of 18 high-quality initiatives were expected to serve as inspiring examples for other youth workers.
- Dissemination and Lasting Impact. All project initiatives will be publicized on the project website, fostering a sense of community within the "Green Chain" network and attracting new members. The project website will be regularly maintained to ensure the continuity and lasting value of the project. Project results would also be shared in seminars, trainings, and meetings organized by partner organizations.
- Measuring Impact. The project planned to assess the impact on participants' motivation, the relevance of the topic, personal competencies, and organizational sustainability at the beginning and end of the project. A significant change, defined as at least a 20-percentage-point increase in motivation and relevance, was considered a successful outcome.
One of the remarkable aspects of the "Green Chain" project was its focus on addressing the lack of materials, tools, and methodologies for working with people with intellectual disabilities on the topics of ecology and sustainability. By developing innovative approaches and sharing best practices, the project aimed to bridge this gap and create a lasting impact in the field.
The "Green Chain" project also set its sights on future collaborations. The success and impact evaluation of the project aimed to encourage participants to continue their cooperation, potentially leading to a strategic partnership project (KA2). Such a partnership could further develop intellectual products related to sustainability and youth with intellectual disabilities.
The "Green Chain" project, organized by Jaunuolių dienos centras, exemplifies the power of international collaboration and innovation in promoting sustainability and inclusion. By empowering youth workers to champion ecological awareness and engage young people with intellectual disabilities, this project has laid the groundwork for positive, lasting change across Europe and beyond. As we look toward the future, the "Green Chain" network serves as an inspiring example of how dedicated individuals can create a more sustainable and inclusive world.
More about the Green Chai project can be found here.
Video about the Green Chain project meeting
Eglė Gudžinskienė, Jaunuolių dienos centras (JDC), Lithuania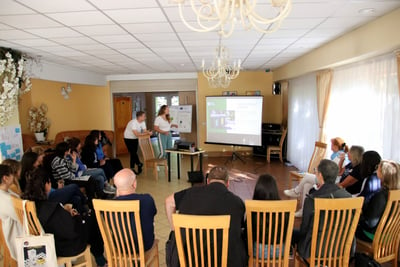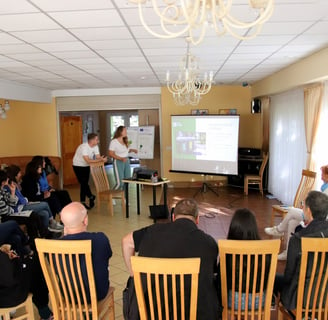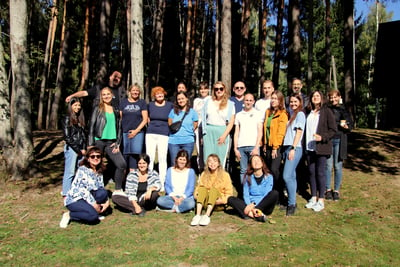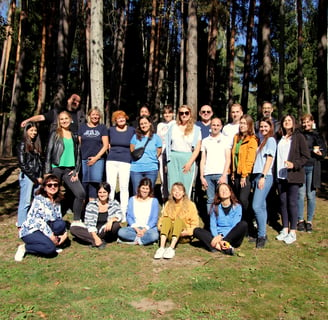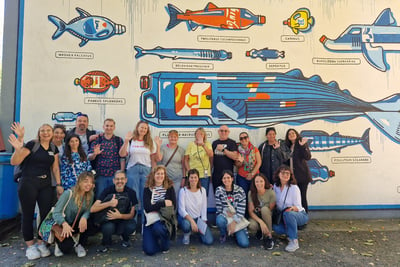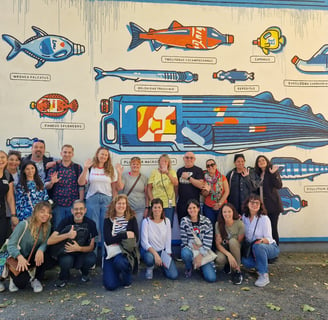 Activities for earthquake victims with disabilities
29 September 2023
After 11 cities in Turkey were hit by the earthquake on February 6, the Spastic Children's Foundation of Turkey (SCFT) immediately took action to help the victims. Besides its work at the headquarters in İstanbul, since March 2023, the SCFT team has been providing physiotherapy, special education, and psychotherapy services to people with disabilities in the earthquake area with a mobile vehicle and in containers designed as rehabilitation units.
The services for earthquake survivors are given in three locations in Hatay: Antakya AFAD Büyükdalyan Container City, Istanbul Chamber of Industry (ISO) Yaşam Kent Container City, and on the Antakya-İskenderun Highway, Ovalı. In Ovalı, SCFT also provides orthotics and prosthetics for amputee children in cooperation with Çocuk İyilik Merkezi (Children's Well-Being Center).
Between April and August, a total of 2,065 rehabilitation sessions were provided to earthquake victims with the support of the Bridge To Türkiye Fund, Turkish Philanthropy Funds, AbbVie, and Queen Türkiye.
You can watch the short movie about the activities in the earthquake region here: https://www.youtube.com/watch?v=xzYySpmxQNc
Gözde Arasıl, Spastic Children's Foundation of Turkey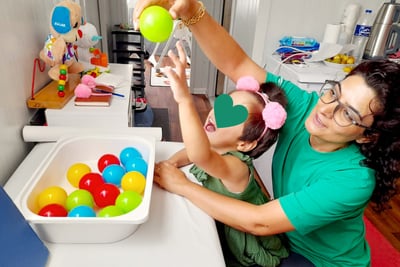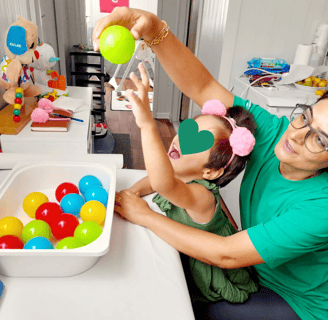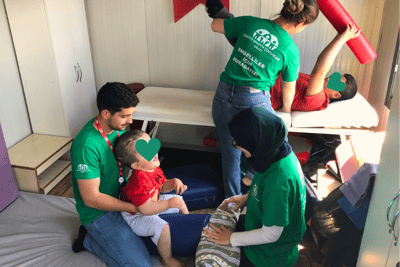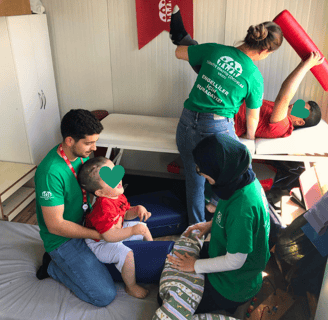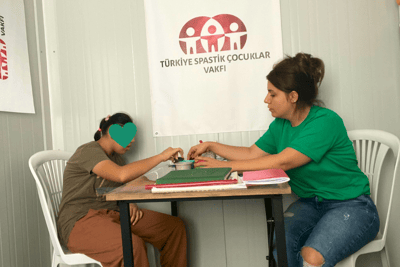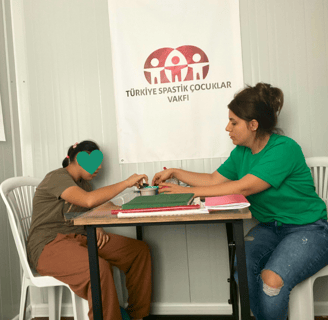 History of energy
25 September 2023
Jan and Sam of Medis 5 are cooperating on an animated short film called The History of Energy. The project is sprung out of Jans text on the theme and the collaboration started when Jan got the idea to ask Sam to illustrate his text. Sam took part in animating the film which is centered around a caveman riding a bike on a timeline through the history of energy. Medis5 SPRAK orchestra contributed with music and Jan reads his text as a voice-over. We are very proud over this wonderful self-initiated project and collaboration.
Katarina Nord, Medis 5, Sweden
ESCalade Volunteering Mountain 2
21 August 2023
'ESCalade Volunteering Mountain 2' is the 2nd edition of an inclusive ESC volunteering project, with the aim to promote volunteering opportunities to all youngsters. In this project, Coop. Kara Bobowski was the Lead organization and involved a total of 9 volunteers, including the ones with fewer opportunities and special needs.
The project involved 9 youngsters: 5 long-term volunteers (5 and 8 months) hosted in Italy by the coop. Kara Bobowski, and 4 short-term volunteers from Italy were sent abroad for about 2 weeks.
One flow of 2 youngsters with fewer opportunities and 1 accompanying person went to Gdansk (Poland) hosted by the partner PSONI during the Festival 'World not known enough'.
Another flow involved 2 short-term volunteers with special needs (intellectual disabilities) and an accompanying person, that spent 18 days in JDC - Jaunuoliu dienos centras, Panevezys, Lithuania.
The partnership with the daily centre for people with disabilities exists for a long time and allowed the organizations to adapt the project to the volunteers' needs. They increased their social skills by connecting with other youngsters (also with long-term volunteers) during several types of activities that allowed them to develop also technical competences.
The feedback we got was really nice. Volunteer's parents said: once again our daughter has shown us that her disability is not a limit or an obstacle but, if well supported, it's just a different, more real and human way of facing life.
Project reference: 2022-1-IT03-ESC51-VTJ-000080392
Key action: Individual Volunteering – European Solidarity Corps
Project coordinator: Cooperativa sociale Kara Bobowski
Project implementation period: Project start 01/08/2022 – Project ends 31/10/2023; Mobility: from 11th to 28th May 2023
Project website: https://karaeuropa.wordpress.com/2023/07/11/inclusive-volunteering-lithuania/
Susana Alves, Cooperativa sociale Kara Bobowski, Italy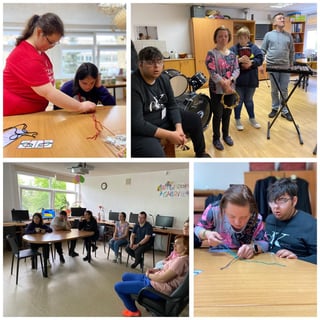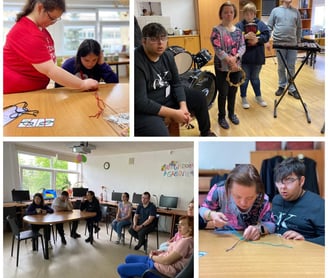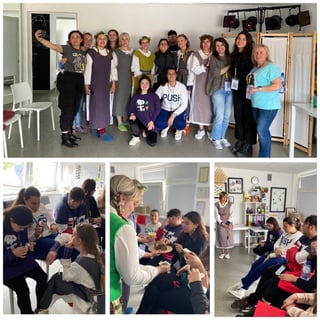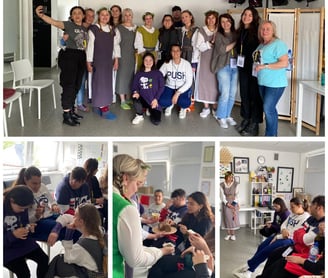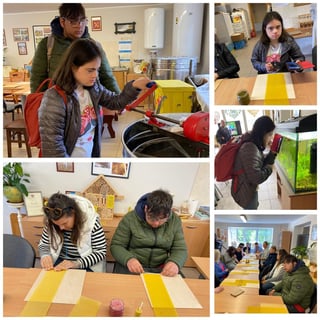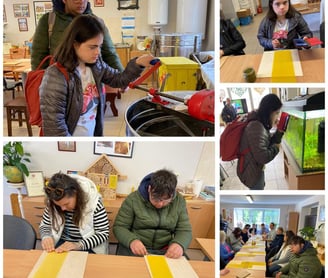 From seed to table
10 July 2023
Nowadays to act in green ways is very important.
The clients of Internationaler Bund (IB) have the motivation to be green leaders in their organization.
They started planting vegetables, will take care of them, water them, and in the fall he will share whether the vegetables are tasty.
Christine Halas
Internationaler Bund (IB)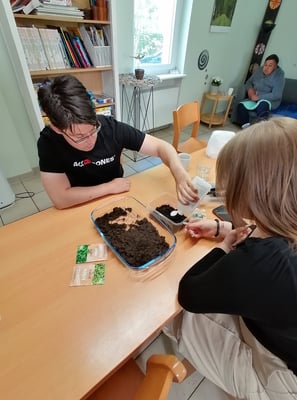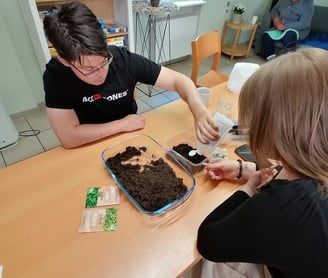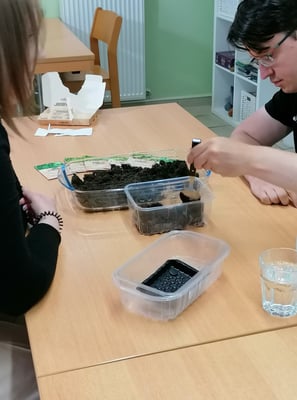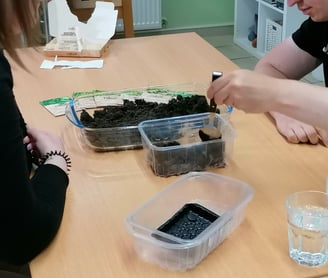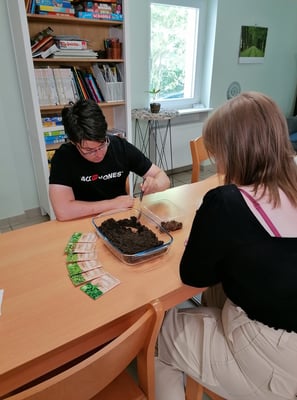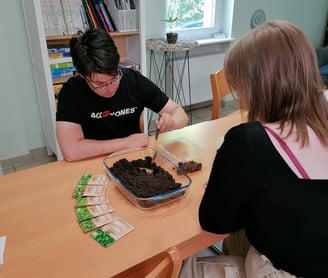 The Different Sounds Project
24 May 2023
The Internationaler Bund team is really happy to share the experience from the first workshop meeting in Poland of the Different Sounds Project.
We met from May 15 - 22 in Gdansk, where we worked on three common songs with the team from PSONI, Medis 5 from Sweden, and us.
On Friday, we had a concert in PSONI Gym with an audience of about 50 people. On Saturday morning, we drove to Warsaw where we had another concert at a public place in the city center going along with the celebration of 60 years of PSONI ..... it was great to share some fantastic moments with some of our friends from the Caravan family!
Christine Halas
Internationaler Bund (IB)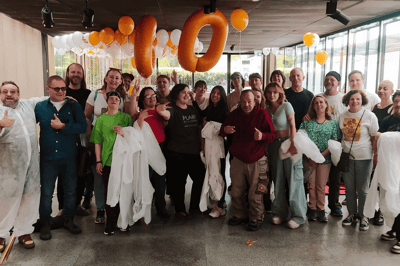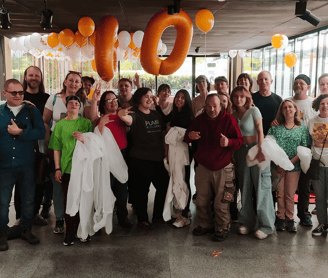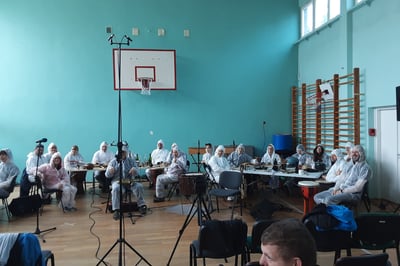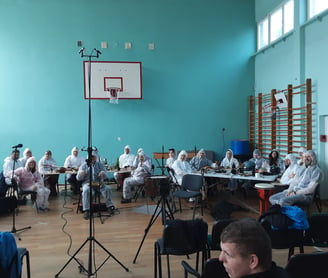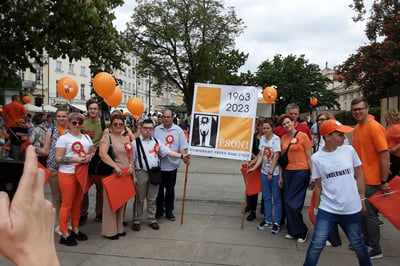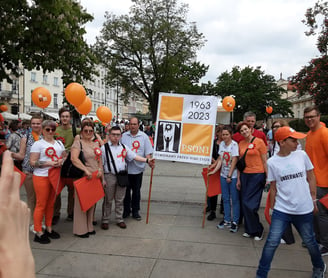 Hand in Hand
15 May 2023
We are very happy to inform you about the European project XEPI-XEPI (eng.: Hand in Hand)
Type of action: Short-term projects for the mobility of learners and adult education staff
Partners:
- ALMA Association (Greece)
- The Papillons Blancs of Lille (France)
The Greek association ALMA, located in Athens, which is the project's coordinator, is currently developing new facilities, particularly in terms of housing, to help people with intellectual disabilities lead a more independent life.
ALMA wanted to benefit from the long experience of Papillons Blancs de Lille (PBL) in the field of housing and social life support. They also wanted to discover the French model of professional insertion.
A Greek delegation of 8 people, composed of members of the management, psychologists, therapists, lawyers and educators, visited France from March 6 to 10, 2023 to meet with PBL professionals, learn about their projects, the measures implemented and make field visits.
The week-long visit ended with a workshop on self-determination before concluding with an evaluation of the project.
ALMA Association Report:
The Greek delegation lived a unique experience and thanks the Papillons Blancs of Lille for this week of visit and exchanges of great quality.
The group was impressed to discover the French system and the organization of the association.
In France, the legislation makes it possible to build a real policy of professional insertion and social inclusion. It is a source of inspiration.
Greek society seems to be 30 to 40 years behind on these issues.
At Papillons Blancs de Lille, the disabled person is at the center of everything.
We see what is possible and we accompany.
The willingness to educate the community like the Tiers-Lieu Le Céanothe, with an open dialogue with the city is attractive. It is perhaps possible to initiate this kind of practice within the ALMA association. It is interesting to build a dialogue together around culture, on an equal footing. It is a question of collective intelligence. We ask ourselves about the needs of society and we transcribe them in a concrete way.
The role of the specialized educator is important for the personalized project of the persons accompanied. In France, this role is valued, as well as that of the housekeepers, the night supervisors...
The PBL staff is very involved in the actions, as are the housekeepers who go beyond the call of duty.
The employees trust the PBL association, there is pride and an identity.
If the French legislative system favors integration and inclusion, the funding policy also contributes to it. People with disabilities receive state subsidies and have a real salary, which allows them more independence, and more autonomy (e.g. state subsidies are paid into their bank account). Work can reduce the amount of state subsidies but it allows compensation, which is not the case in Greece.
The organization of the ESAT (Supported Employment Workplace) is impressive by the number of different services and the diversity of the productions. It is interesting to see the links with the commercial, and the relations with the public, and to see that the customers come to the PBL.
The fact that the work contract is the same at the national level is remarkable, as are the CFAS (Specialized Apprentice Training Center) evaluation grids. This allows for better follow-up and support in the progression and development.
The positioning of the PBL association in relation to other types of establishments goes in the direction of greater openness and collaboration between all actors. Ex: PBL's expertise in hospital screening.
Another strong point was to discover the interventions with parents in situation of handicap (SAAP – Support Service for Parenting). Thus, people with disability have the right to be parents, to realize their project.
There is a philosophy of opening up PBL to society and also to bring out this desire for inclusion.
The concept of self-determination illustrates this openness by allowing each person to find his or her place, for a greater impact in society.
Newsletter
Régis Alvin
European projects manager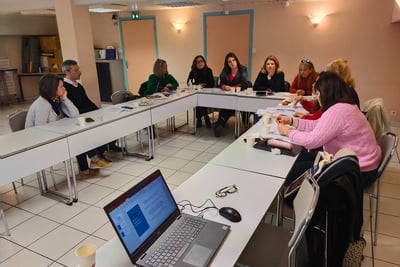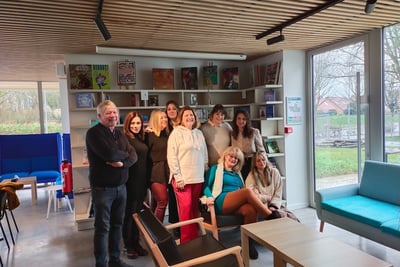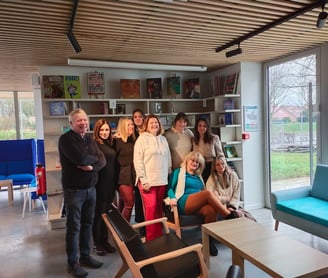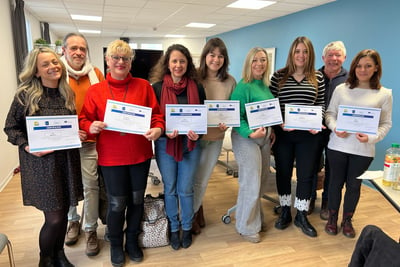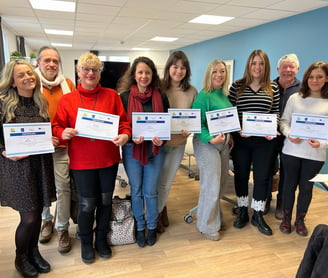 Let's make the UN convention a reality
10 May 2023
Caravan2000 personal member Ino C.M. Cornel shares the experience of implementation of the UN Convention on the Rights of Persons with Disabilities in the Netherlands.
I am member of an organisation called VN-ambassadeurs | Coalitie voor Inclusie
On 14 July 2016, the Dutch government approved the UN Convention on the Rights of Persons with Disabilities.
In the UN treaty, the United Nations calls on the government, companies, and other organizations to make the UN convention a reality. So as you know, there is a lot to do for us as ambassadors to make this happen.
We as ambassadors, have links with many local partners and municipalities, and we all try to enhance the awareness.
The booklet is free to use.
The colleagues of the town Eersel presented the first version. A platform for people with disabilities in Eersel (a town in Brabant)
Our goal is to get this booklet out, related to the Inclusion Agenda in many cities and villages.
You can download the booklet here.
For your convenience, the booklet's first page in English:
HELLO… how can I help you?
A booklet with tips on how to treat each other in a pleasant way can go.
That way we all feel welcome.
It is important that everyone CAN JOIN, COUNT, and feels WELCOME.
We (people in general) are all eager to help and with the best of intentions.
But one person is not the other, each person is unique. The same applies to a person's disability/disability.
Most restrictions are not always immediately apparent from the exterior. Think of memory loss, a mental or psychological one disability, or being blind or deaf.
Falls often occur with a physical disability using only an assistive device, such as a wheelchair or cane.
But not the man and the story behind it.
We often have a certain image of a disability. Which makes it difficult to talk to someone.
Here are some simple tips for handling with people with disabilities/limitations.
When we treat each other in a pleasant way, people feel with a disability is less or not at all limited!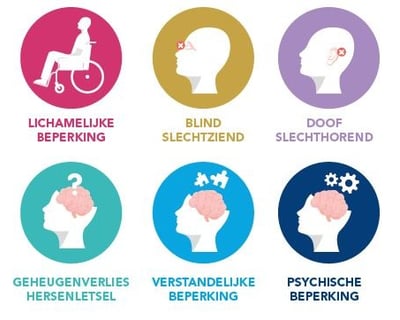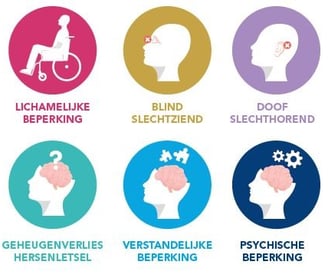 Plan A, B, and C
10 May 2023
It is always an adventure to work with the Caravan projects.
Even if we always have good planning we always end up with desperately inventing a plan B, C and sometimes even D.
In the project "The Search For The Holy Grail" we were filming persons who had made a big change to the better in their lives. We wanted to share their experiences in an E-book.
For example in Derry. The plan was to film John Boy, a man who is deaf and blind.
He competes in arrowing and likes to ride a tandem bike. A really good theme for a film!
Once there, at a beautiful moor just outside Derry, it turns out that the tandem biking friend is nowhere to find. Time for plan B.
The next day we got the information that the arrowing club had somewhat surprisingly just closed. Time for plan B!
You can see the plan B's and C's here:
"The search for the Holy Grail" John Boy story - Northern Ireland - https://www.youtube.com/watch?v=B0Injr7rOBQ
In Italy we were told that the actor they had chosen for the film only could film 45 minuter/day and had a very challenging temper. Plan B turned out to be a little it too much of a diva for us to handle. So what you see here is plan C.
"The search for the Holy Grail" - The Girl With The Talking Eye Italian story – https://www.youtube.com/watch?v=R7h9s8WslXs
In Sweden, our main character got a cardiac arrest and was in a coma for a couple of weeks. Fortunately everything went well and could make the film with some plans B's and C's.
"The search for the Holy Grail" Kent Sidvalls story - Sweden - https://www.youtube.com/watch?v=vHMWY9teJ1I
And the Plan A -film
And sometimes, everything goes as planned.
Like in Gdansk when we were filming eight films during one week:
"The search for the Holy Grail" Polish story – https://www.youtube.com/watch?v=NXcGArmy_8g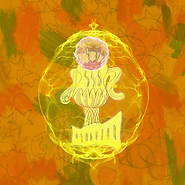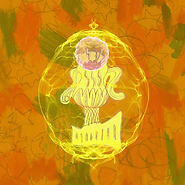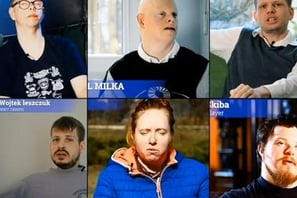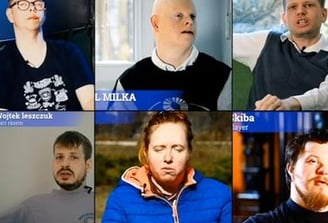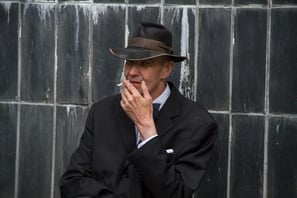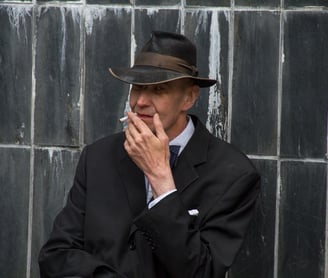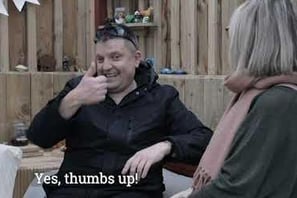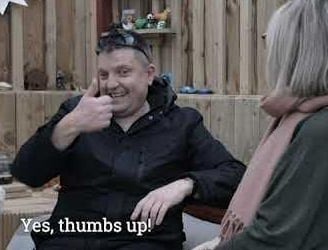 Beyond borders - exchange with the organization from Bosnia-Herzegowina
02 May 2023
The member of Caravan2000 proudly shares their experience of cooperation with an international partner from Bosnia-Herzegowina.
Let's watch the video together!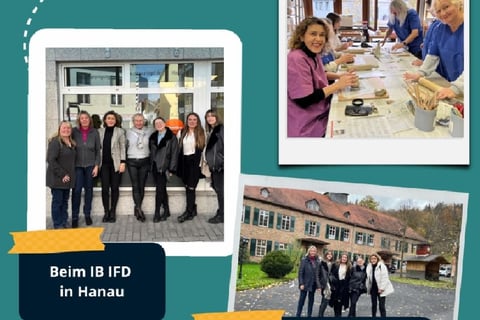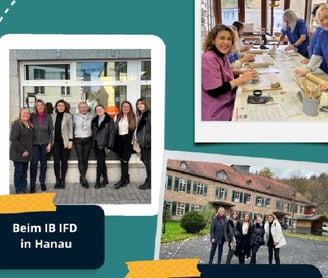 Meeting Participation "Adults with Autism" and "Modern Technology and Autism"
21 April 2023
Pan-hellenic Association of Adapted Activities "ALMA" was honored to participate in the Meeting "Adults with Autism" and "Modern Technology and Autism", which was organized by the EPIONI - Greek Carers Network, on Monday the 3rd of April 2023. The Meeting was hosted on the occasion of the World Autism Day.
The coordinator, Mrs. Sophia Nikolaou, and Mrs. Eleni Drakopoulou, developmental psychologist presented the results of the European Program Erasmus + IDA (Inclusive Digital Academy), which was implemented, with the support of the European Union.
European Program Erasmus+ IDA (Inclusive Digital Academy) is the result of an international collaboration between 11 partners, all committed to reducing the digital divide, especially for people with intellectual difficulties. Their strategic collaboration made it possible for them to share good practices, and to promote innovation and the social integration of people with disabilities.
Computer literacy plays a vital role nowadays in people's social integration, professionally and personally. In order for people with disabilities to seize this opportunity, they should be able to look up information online, to write an e-mail, to share information, and to communicate via social networks. They should also know how to use a personal computer or a Smartphone.
The idea behind the project was to create a training portal that will enable mentally disabled individuals to safely use online tools. This was made possible by using methods and techniques suitable for their existing set of skills, and by taking into consideration their actual needs. The use of the portal is also anticipated to help them develop new skills and obtain knowledge in relation to the internet's possible dangers, their rights online and critical thinking.
You can download the portal or learn more information about the project in the following link: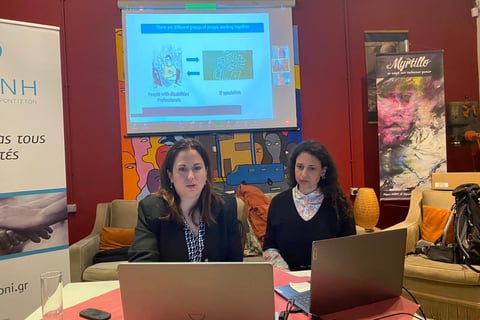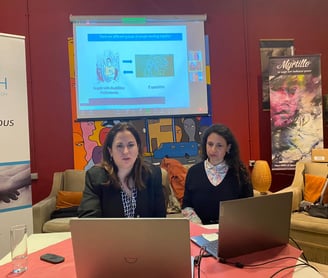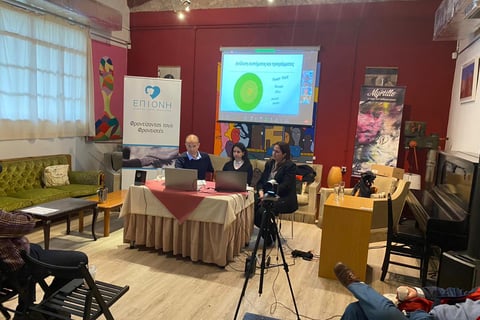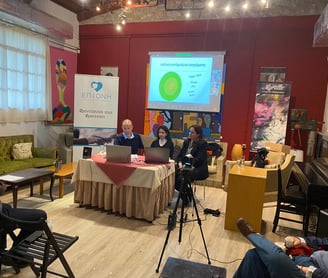 Fundación Monte Mediterráneo experiances in intercultural learning
11 April 2023
Presentation of our projects Erasmus+ KA2 Agroinclusion and Erasmus+ KA2 eu4shepherds to the participants of the project FORZOMIS (presentation of our project).
On the occasion of the International Day of Forests on March, 21st, here are some images of the natural monument on the Dehesa San Francisco: a holm oak, about 500 years old, and a cork oak about 300 years old. (International Day of Forests)
The Agrarian Chamber of Lower Saxony organizes the second last workshop of the Erasmus+ project Agroinclusion (Erasmus+ Agroinclusion)
Again, young people from Lower Saxony, Germany, learn, study and enjoy their "Andalusian experience". (Welcome Lower Saxony)
Conference in Lithuania
07 April 2023
On march 22, 2023, a Regional Conference was held at the Jaunuolių dienos centras (JDC). The participants - professionals working with people with disabilities (PWD), elderly people, and nurses from the Panevėžys district attended the Conference.
During the conference, participants discussed such actual topics: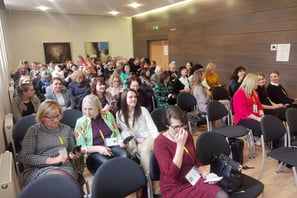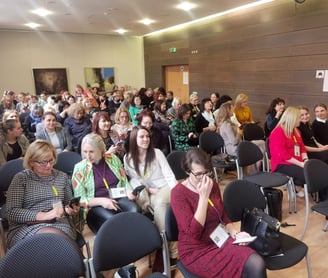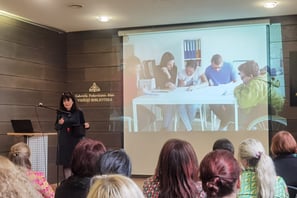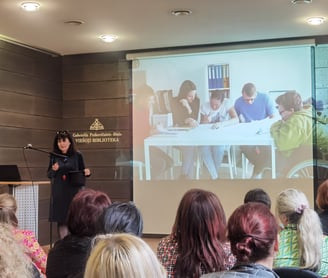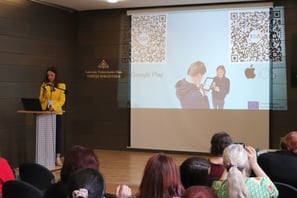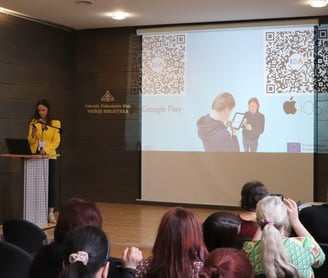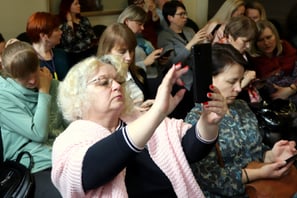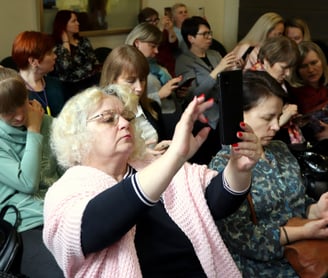 Super Love Woman
02 March 2023
When you are treated badly, just call for Super Love Woman!
A project about inclusion, independence, and leading your own life.
PSONI did the music, Playhouse had workshops, Medis 5 were filming and we were all actors.
Different Sounds
01 March 2023
We want to share a musical collaboration between cultural activities in Poland, Sweden, and Germany. The purpose is live concerts and workshops on three occasions, in three countries. We are also creating an animated film and an e-book on the theme of inclusion. The project's name comes from one of the Polish participants. He had the opportunity to play with professional jazz musicians and said he contributed with "different sounds".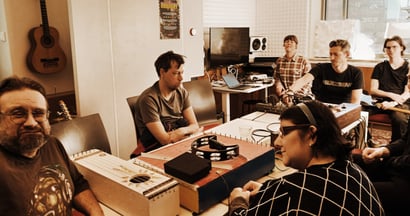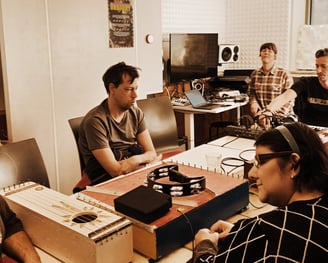 Caravan2000 General Assembly meeting
12 January 2023
The members of Caravan-2000 in the GA discussed the points you can find in the meeting
Minutes of the meeting (Information will be available soon)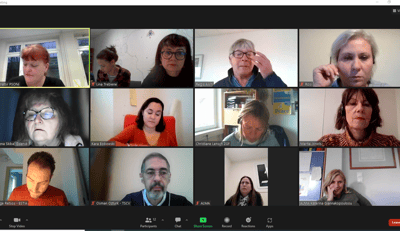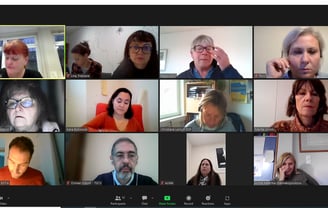 The Holy Grail E-book
13 January 2023
The Caravan2000 members are very proud to share the Erasmus+ project THE SEARCH FOR THE HOLY GRAIL results!
An E-book with films about that very moment when your life changed for the better. An E-book for staff who wants to be a support for people who wants to live a more independent, creative, and full life. The book is available in Polish, English, Italian, and Swedish.
Let's all go find the Holy Grail!